Setup SneakPeek URL to Image and PDF Platform
Server Requirements
LINUX Servers (No Shared Hosting)
WHTMLTOPDF Extension
PHP >= 7.3.0
MySQL 5.5 MariaDB
NOTE: As already explained, at the time of purchase, SneakPeek Script necessarily requires those modules for a correct operation and it is therefore assumed that this Apache extensions is already present to your server.

If it is not yet installed and active, please follow the correct procedure of installation for different types of servers.
---
Step 1
Upload the folder

SneakPeek-Script to the root of your website
Step 2
Create a new Database and upload the file named

sneakpeek.sql
Step 3
Open the file

server_config.env

. Add the

Database information

, the

URL

of the installation and You can change the name of the Website as well at line 3.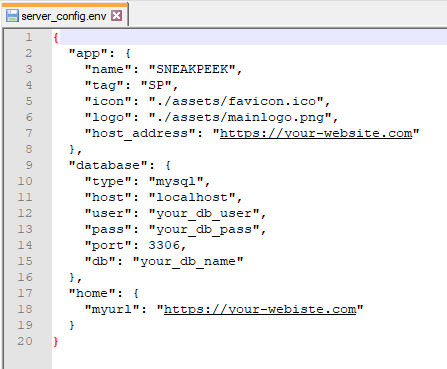 Step 4
Go to your login page , Eg: https://your-website.com/

login

Change your Credentials after login:  go to your Profile Page , Eg: https://your-website.com/profile.
Now you can Enjoy your SneakPeek Suite!